Carol J. De Tine, AIA
founded Carriage House Studio Architects LLC in 2001. Located in Portland's historic Western Promenade neighborhood, the office is in an 1854 brick and sandstone carriage house in a space that had previously served as a stable, a squash court, a garage and a lobsterman's workshop before Carol converted it for her studio and office.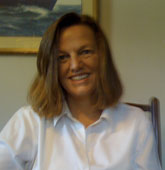 A native of Buffalo, New York and a 1983 graduate of the University at Buffalo's architecture program, Carol has been a registered architect since 1989. She has lived and practiced architecture in New York, Vermont, New Hampshire, Scotland and for the last 12 years, Maine.
Carol combines her interest in local history and regional distinctions, her long experience living in and designing for cold climates and her knowledge of modern materials and lifestyles to create houses, cottages and interior spaces designed for their own unique time and place.
As a sole practitioner, Carol works closely with her clients through every phase of a project, from site planning and concept design to materials selection and construction.
Carol is a member of the American Institute of Architects (AIA) and a founding member of the Portland Society of Architects. Currently a Board Member of the Maine Chapter of the AIA and Secretary/Treasurer of AIA New England, she served as President of AIA Maine in 2007 and 2008.